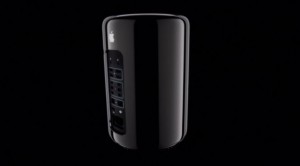 As nearly the entire computing universe has migrated to smaller, more mobile machines, there are still many people who absolutely need a desktop to work.
This incredible new cylinder will soon be the Mac Pro, and will be a major upgrade over the existing product line in every way imaginable.
The innovative case for the new Mac Pro is glossy black and a marvel in engineering. The cylinder comes off completely to offer access to the internal hardware, and when the case is sealed the top lip of the cylinder acts as the handle.
The cooling system is an innovative, cylindrical noiseless fan with a blade architecture similar to a jet engine that sucks air from the bottom of the unit up through the top.  The fan design itself is very impressive and required countless engineering hours to perfect.
This new Mac Pro design lights up when you move it, revealing tracks of light around the I/O ports on the back of the machine to make it easier to connect and disconnect anything you need.
Built around a "thermal core", the new Mac Pro is significantly more compact than the current Apple's workstation, but is significantly more powerful.
With a new, fast Xeon processor, 1866MHz DDR3 ECC RAM, and solid-state PCIe storage, the new tower is capable of at least twice the raw computing power as the previous model. The Pro also sports dual AMD FirePro graphics cards and Thunderbolt 2 ports to support up to three 4K displays simultaneously.
Thee launch date is slated to be late fall of 2013, and I expect the price to be high, as in "very high", although it's good to see Apple refreshing their desktop line and paying attention to power users again.
Oh, and one more thing….its designed, fabricated and built 100% within the United States.
Of course, I'll want one!