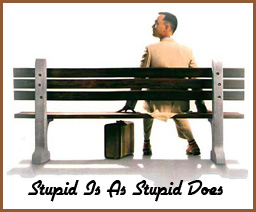 Every time I think I've heard it all, something else stops me in my tracks and whacks the side of my head so ferociously, that I nearly pass out and have to question the level of intelligence and self-awareness of what seems to be a large percentage of the population.  Such as the following:
Excitement for Twitter's coming IPO is running pretty high, to the extent that many investors on Friday mistook the nearly worthless stock of dead and forgotten electronics retailer Tweeter for the famous "tweeting" site, sending shares up more than 1,000 percent.
Tweeter Home Entertainment Group, a consumer electronics company that went bankrupt in 2007, enjoyed its most active day of trading in more than six years even though it has nothing to do with the social media site, Twitter.
The stock, which trades over the counter as basically worthless garbage, closed Thursday at a price of less than a penny a share, yet Friday hit a high of 15 cents a share before paring gains to trade at 5 cents, a 669 percent rise. More than 11.7 million shares had traded by about 12:00 noon.
The volume was the most active trading day for the company since May 10, 2007, when 13.05 million shares were traded and the company reported quarterly results and said it may choose to file Chapter 11 bankruptcy.
To say the stock is lightly traded in normal times is an understatement, sometimes going several days without even trading 1,000 shares over the course of a full session.
However, in the last two weeks Tweeter's (Not Twitter's) share price and volume ticked higher following Twitter's announcement on September 12 that it had confidentially filed for an initial public offering.  People were obviously convinced this worthless, penny-stock was in fact "Twitter".  Needless to say, quite remarkable.
Tweeter filed for bankruptcy in June of 2007 and its assets were acquired by an asset management firm.
Twitter filed its IPO documents to begin trading as a public company on Thursday, October 3, 2013.