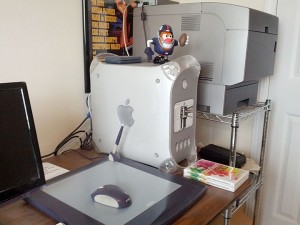 Tucked into a corner of my office is my favorite computer. I have many new, ultra-fast systems although I continue to use this one for many projects.
Its an old Macintosh with a G4 Processor running OS X 10.2.8.
I like it since its runs several of my favorite old programs such as FreeHand 10 and MX, TypeStyler along with having an enormous selection of old fonts set up exactly as I like them using an antiquated version of Extensis Suitcase.
Yes, its no longer viable for developing software or processor intensive tasks such color separating a 100 MB file with automated techniques, BUT it can be utilized for just about everything else and for some reason, just "feels right" when I sit in front of it. Yes, quite strange yet true.
Although not entirely scientific, although there is fact behind this is I believe it continues to be surprisingly responsive since I never….ever wrote files to the internal hard drive and always used external firewire devices. The only data written to the internal drive were the applications. Due to never running into fragmentation issues, after many years it requires about 40 seconds to start-up and all applications run great with no disk thrashing or strange behavior.
Oh, one more thing…. anti-virus software was never installed since day one and this old computer was never victimized by viruses, malware, etc. Not too shabby!
Today its far too old to use modern browsers although works just fine on my network with about 8 other systems, 4 printers, 2 network drives and a Mac server.